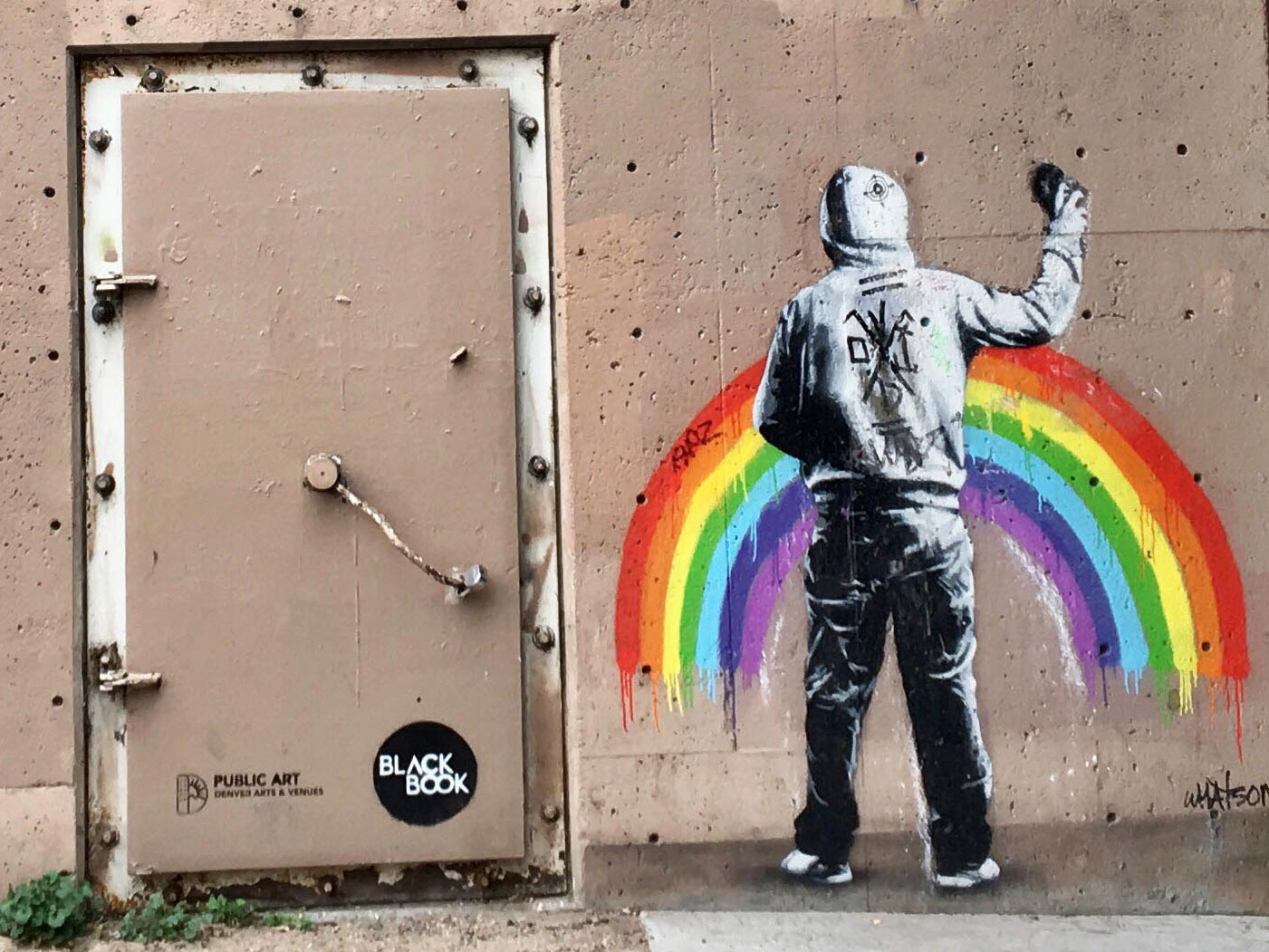 Welcome to Denver,
Whether you're visiting Denver or a tourist in your own city, one of the best things to do on a sunny weekend day is to go for a bike ride along the Cherry Creek River Trail into Downtown. You can hop on the river trail and cruise your way into all the best parts of downtown, while taking in some beautiful sights along the way.
Thanks to the city of Denver, internationally renowned artists have lined our humble bike path with beautiful murals. I've taken the time to document them and provide you with a bit of information on each mural as well as the artists that make them.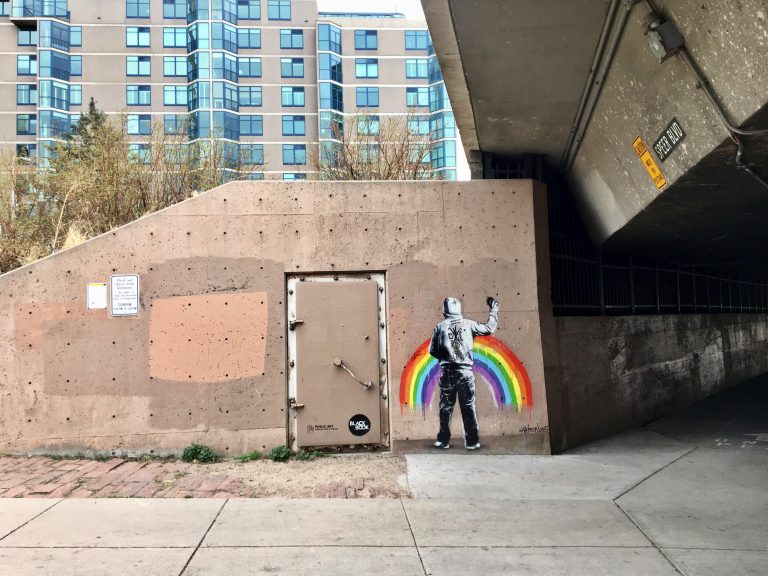 Lets talk about Whatson.
Martin Whatson is a Norwegian stencil artist all the way from Oslo, Norway. His work is easily reminiscent of Banksy, but don't let that fool you. He takes an entirely unique spin on street art, incorporating classical elements such as 18th century portraits with all the squiggles and colors a rainbow of spray-paint can offer. This piece, located at the University of Colorado Denver exit of the Cherry Creek Trail is titled 'Sad Rainbow' and was featured in his solo show with @blackbookgallery. I encourage you to follow him on instagram @martinwhatson to add a little beauty to your feed. You can also buy prints of his (they're amazing) at martinwhatson.com.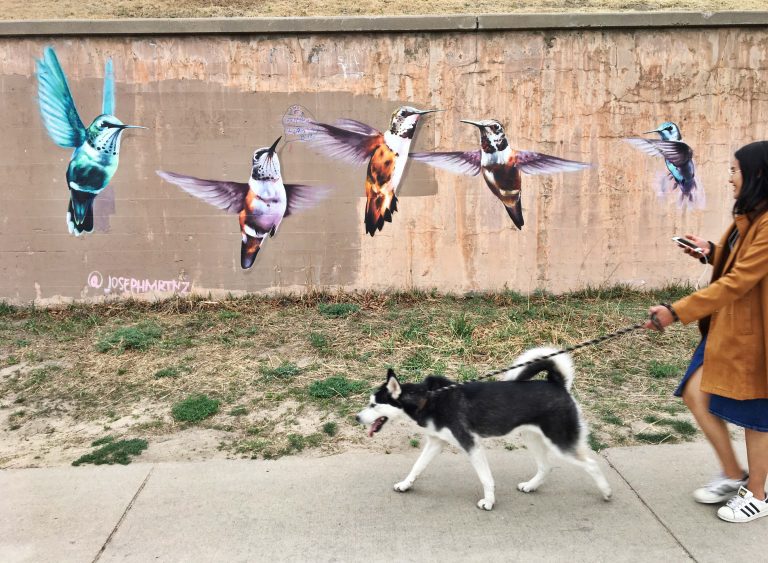 Joseph Martinez is an old-school master at painting. His instagram is an avant-guarde array of color and casually scattered masterful oil portraits.  His painting of hummingbirds is one of my personal favorites along the river bike path. His mural can be spotted along the Cherry Creek Trail near the Performing Arts District of Denver. Click here to see more of his work, it's incredible. If you're interested in purchasing his work or commissioning something you can contact him via josephmrtnz83@gmail.com.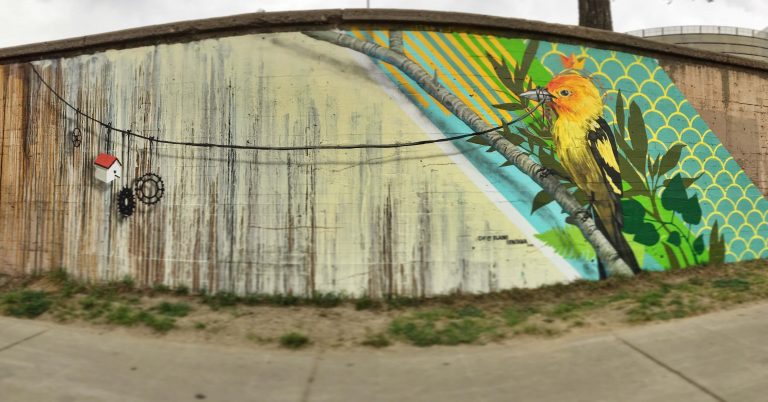 Portland, Oregon based artist Blaine Fontana is no stranger to public art or murals. His paintings grace the walls of many-a cities and towns across the globe. His ability to capture beauty realistically and add surreal elements to each of his works inspires and is easy to adore. He's recently been doing some incredible paintings of animals, tons and tons of murals and much more. Check out his instagram to add some beauty to your phone. If you'd like to know more about him and his work check out his website, thefontanastudios.com 
is the man behind this beautiful array of shapes, colors and textures. His abstract expressionism reminds of graphic design but on hallucinogenics. Vernon holds a BFA from Parsons School of Design and also studied at University of Vermont, Burlington. He's had exhibitions all across the country and its easy to tell why. If you scope out his instagram @oliver_vernon you'll quickly discover shapes like you've never seen before. His murals are nothing short of captivating. If you're interested in his work you can reach out to oliver@oliververnon.com or check out his website oliververnon.com.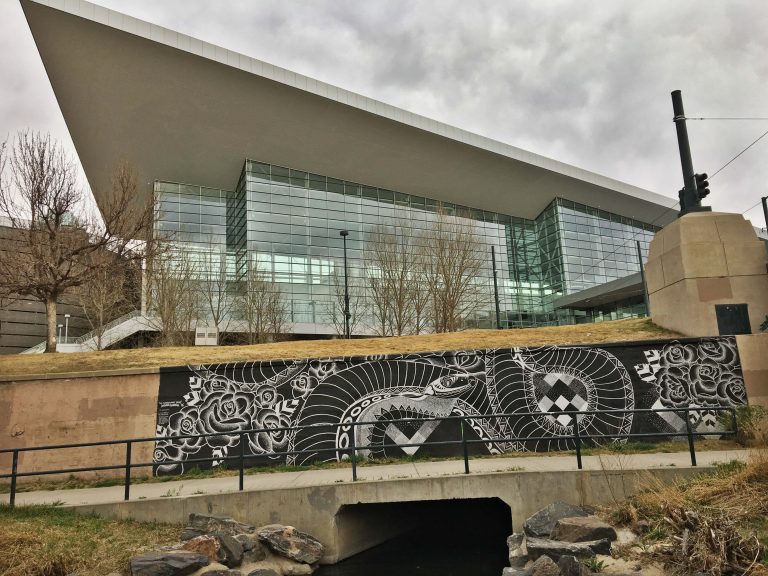 I like to call this one 'the danger noodle' aka a snake. This piece was painted by the wickedly talented Jason Garcia in 2015, whom I actually went to University of Colorado Boulder with! He was working on his MFA while I was getting my BFA. I remember him from the incredible sculptures he was doing out of mirrors, creating text placed in otherwise unexpected landscapes. He's now designing some incredible tattoos, making even more epic murals and has plenty more tricks up his sleeve. Check him out on instagram!
This piece is titled city of the sun and is painted by Gemma Danielle aka @optimysticism. She defines optimysticism as the art of being an optimystic ;). Her practice is capturing the sacred, the metaphysical and the unexpected. If you're a fan of sacred geometry, reiki, tarrot and the beauty of the metaphysical, look no further than her instagram. We're loving this mama's work and wishing her many more chances to decorate the city. Check out her website at optimysticarts.com
is a visual artist, art director and designer who definitely has a knack for design. He's designed logos for companies, created advertisements for Ford, and designed beautiful and familiar restaurant menus, web designs and, of course, murals. He's a carbonmade artist and can be found at nigeldesign.carbonmade.com. He's on twitter as well @lifted and seems like one hell of a groovy dude. Check out more from his mural below!
New to Denver? Looking for things to do?
Check us out on instagram @brooktonmagazine
Any events in the arts you'd like us to cover?