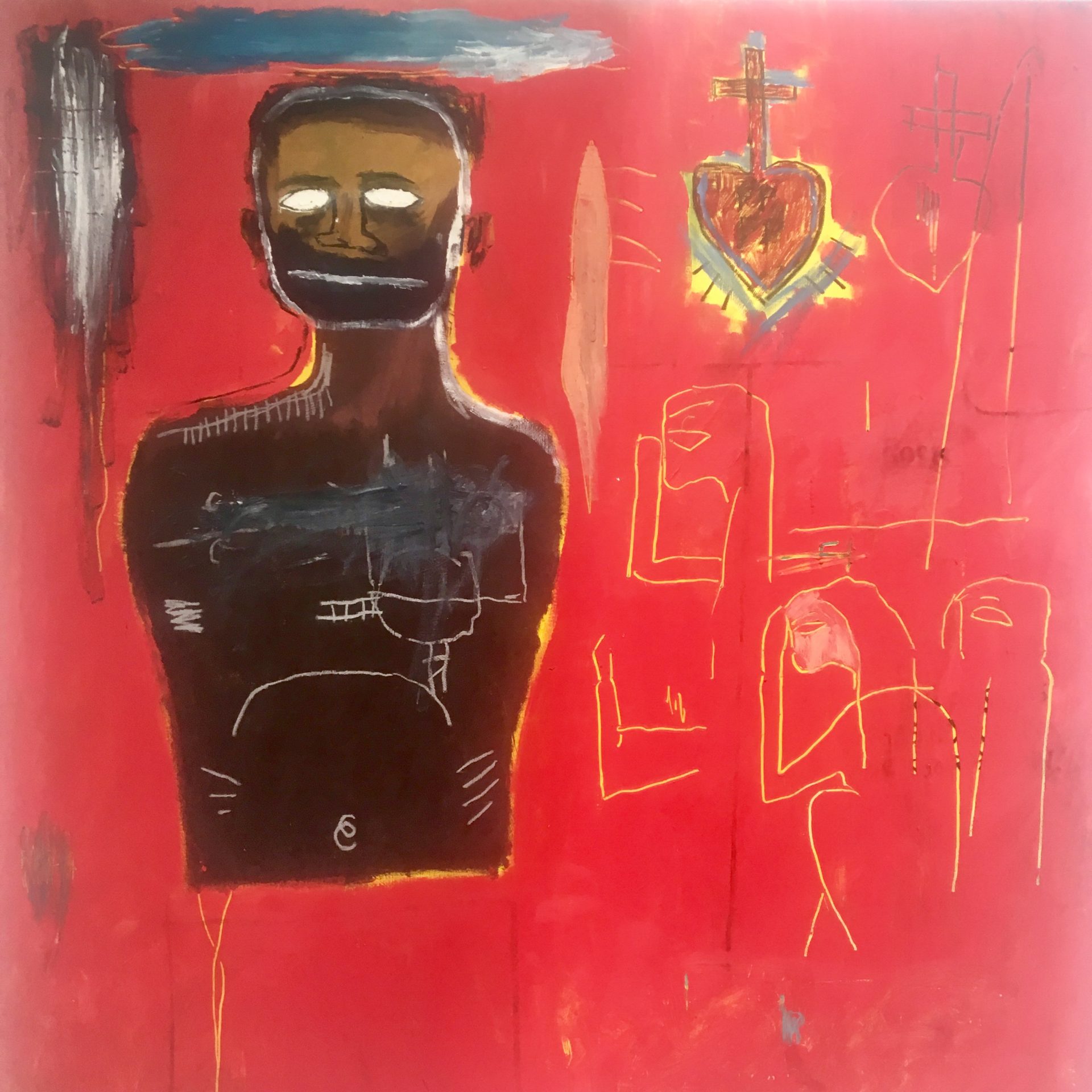 What It Is
A collection of journal entires, paintings, photographs and videos documenting Jean-Michel Basquiat's life in 1979 and 1980. This was when he was living on East 12th Street in East Village with his friend Alexis Adler. This collection is a rare insight into his life shortly before his fame.
Who He Is
Jean-Michel Basquait lived from 1960-1988. He appeared on live public-access television show TV Party (a video of which is in the exhibition) where he met Glenn O'Brien who then made him a star in O'Brien's indie film Downtown 81 then met Andy Warhol and showed him samples of his work. Warhol fell in love with Basquiat, the two collaborated, long story short it made him famous. He ended up dating Madonna for a while, she has some of his paintings still I think but I recall he asked for some back and destroyed them or something. Anyway, Basquiat came up too quickly, after Andy Wahol died in 1987 he felt like the walls we closing in on him. He died of a drug overdose in '88.
Why It's v v v Important
This was a man who understood the world very deeply. He had so many complexities, emotions and political opinions as a straight black man from New York City in the 70's and 80's. It wasn't that he was in the right place at the right time, it's that he always knew how to express something visually. The world was his canvas before he could afford canvases, he just made art on walls, on scraps of metal or things he would find in the streets. When someone came along and gave him the means to make large canvases after he found his fame, he had already earned it. He's an example of how art is unforgiving, it's not welcoming when you're ready. Jean-Michel Basquait was one of the very great visual artists, whom, like many before him, felt utterly rejected by the fine art community as a minority. Until, very suddenly, overwhelming acceptance inspired dissociation, conflict of identity and ultimately self remedied mental illness via drug use. He's the kind of talent that would normally go unrecognized had it not been for his chance encounters, and for that reason, is an important reminder to why we must accept and give credibility and validation to the underdogs and counter-culture artists fighting to express their voice.
EAST 12TH STREET, 1979-1980
Where would Jean-Michel Basquiat be today? A question I'm frequently asking myself. The ephemerality of his life is a tragic example of fame, a short lived roller coaster of significant beauty.
Having died at only 28 years old, Basquiat came up in the fast lane alongside Andy Warhol and Madonna. As we see in Untitled (A Nation of Fools), Basquait was no stranger to using art as a caveat of self expression. I found myself wondering what kind of work he'd be making today with President Trump in office.
It blew my mind to look at a page that Basquiat had touched and written on himself. It kinda demystified him in a way, it felt like looking at his thoughts.
Basquiat's retrospective at the MCA Denver gives visitors intimate insights into his private journal entries and sketches. The most beautiful to me was Untitled (Blue), pictured above. My favorite colors of blue appear when you mix a dark blue oil paint with titanium white, it's all the shades between when you begin to mix them. Basquiat feels that here. The written word, Blue, reminds of Picasso's period. We see it countered by very calculated almost mathmatic lines, juxtaposed with irratic, uncontrolled and freely expressed lines and strokes. It's a feeling. It's a mood. It's a beautiful expression of something that can't be captured in language alone.
Above are some photos of Basquait taken by his roommate at the time, Alexis Adler. It's beacuse of Adler's photography that we see such intimate moments with the artist in this collection.
I was so fascinated by how he drew portraits.
My final thoughts are that this is one of the best exhibitions I've ever seen at the MCA. Nora Burnett Abrams is a brilliant curator and lucky for me, I got to see it alongside Ryan McGinley's show. Two of my favorite artists in my favorite building in Denver? I moved in for the weekend.
This is a must see before it closes May 2017.